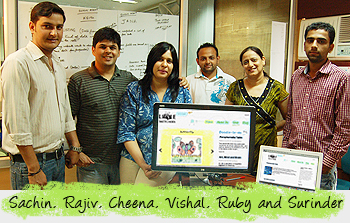 We are finally out there! Thank you team for all the hard work. Thank you for believing in the concept and thank you for bringing it through!
Sachin and Vishal have been churning out all the code behind the design at lightning speed. Surinder has to keep pace with my creative binges! He is responsible for the 'styling'. And he is really 'swift'! Ruby is my right hand lady for everything usability and text…Rajiv, my partner and hub, helps me put everything together.
Together we are a 'SUPER' team!!
This is not the end, this is only the beginning

we will constantly try to improve and make it the bestest place in the entire universe

And most of all thanks to all our dear members and the little Sketchers who have made it a reality! We hope to  see your art flourish and reach new heights. It gives us immense pleasure to see what your little minds have in store!
Thanks!
Cheena Kaul