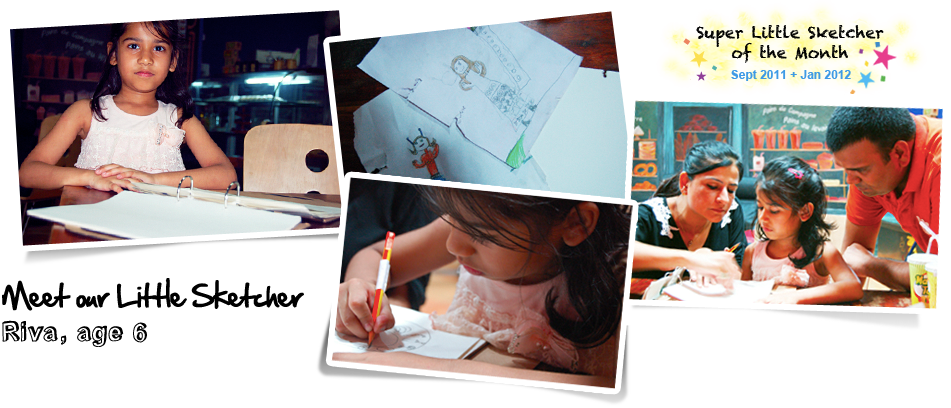 visit her studio
The questions were answered by Riva's dad, who also happens to be a professional artist!
Q1. At what age did your child start drawing? How often does she draw?
A: My daughter began drawing since she was 2.5 years old. She draws everyday.
Q2. What does your child generally draw?
A:  She likes to draw characters, mostly fairy tale character rapunzel. She draws real life characters also like her own avatar with her pet. She also draws dogs, cats, sparrows, peacock. Lastly what you learn at every school, a landscape with hills, sunrise and huts.  She also loves to compose greeting cards with personal messages and decorated with flowers and also an avatar of the person the card is dedicated to.
Q3. Do you encourage your child to draw? If yes, please state how?
A: Yes, we do by bringing her lots of colours and sketch books. And of course by appreciating every little piece she draws.
Q4. If you are told that art can help your child to retain more information, will you encourage him/her to draw?  Will you be interested to know how to go about this?
A: Definitely yes.
Q5. Did you like drawing as a child yourself? Have you saved any piece of art from your childhood?
A: Yes, I like to draw as much as my daughter does. I have saved many drawings from my childhood in old drawing folders. Although some early works are retained on the books' collection of my father, which I ruined with my scribbles as a kid.
We would also love to have your opinion regarding our site.
A:  The site is awesome! With the shopping options added it has become even more interesting.
Do you often visit our site? What do you like the most about our site? Will you continue to use this service?
A: I visit once or twice a month. It's a good way of seeing your child's artwork showcased among other little sketchers. It motivates the child to draw more and be competitive as well as knowing expressions from other kids.
Have you explored our online shop? Do you think our products provide unique gifting options?
A: I have explored it and I think it's a very creative collection. The mats are lovely and so are the customized sketchbook options. Even without a silhouette of your child it is a collectible article. Hope to see more of creative stuff added.