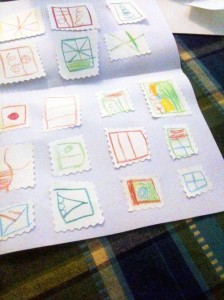 It's summer time! Afternoons are spent mostly indoors, unless you want to get outside and get all nice and brown, kind of baked that is! Well, so why not take out those papers and colors and the 'squiggly' scissors and get going…
This idea was in fact 'generated' by my 5 year old son, Tejjas. I was quite happy helping him out and he was having a great time, doodling away…First he drew all the shapes and forms (supposedly, symbols of some imaginary nations!) in his sketchbook. Then he kept passing these on to me, and I patiently cut each one with his 'squiggly' scissors. It is called something else, perhaps…but I prefer calling it that. You can come up with your very own name too!
So once we had all these little imagiNATION stamps all cut up and done, we got down to pasting them on to a paper. Well, couldn't find the glue…so used the tape instead.
Came out pretty cool!
Plan to do this again sometime soon